AS POWER WIN32 DLL 2.1
Now you can get full control, full power control for your applications.
AS POWER WIN32 DLL 2.1 - Details and Download Link
31KB
Demo
20
Programming & Software Development / Components & Libraries
Windows 2000/XP
AS Computer Software
AS POWER WIN32 DLL 2.1 - Free Download and Review
and many more functions. Wake function are very hard to find, but now you have it here. In demo you will see how we put your computer to sleep for 50 sec, and after that we will wake it up.

Related keywords:
win32 dll
,
shut down
,
wake up
,
priority control
Top Software Development / Components & Libraries programs
1) Karamasoft UltimateEditor - ASP.NET control to render rich-text content editor. 1.0
ASP.NET control to render rich-text content editor.

2) Windows Std Serial Comm Lib for Visual Basic 5.0
Visual Basic RS232 serial communications library. Control multiple ports simultaneously. Includes line status/control, modem control,ASCII/XMODEM/YMODEM, virtual ports (USB to serial,Bluetooth serial, hardware/software flow control.Win64,Win32,Win16
3) 2D / 3D CAD Import .NET 6.3
CAD Import .NET is an easy-to-use API for reading AutoCAD DXF, DWG and HPGL PLT in C#, VB.NET and other Microsoft Visual Studio environments. It is programmed completely in C#. Demos: Viewer, Editor, Import, Add Entities, MergeFiles, ViewerControl.
4) Demo toolbar for Internet Explorer (IEDemoToolbar) 2.1.
This toolbar will be useful for Delphi developers as a framework for their own toolbars. XP themes support, chevron support, gradient background support, etc...
5) Karamasoft UltimateMenu - ASP.NET menu control to build advanced DHTML menus. 3.0
ASP.NET menu control to build advanced DHTML menus.
6) PixTwix 6.03
PixTwix is an image processing ActiveX control featuring over 150 methods for manipulation and enhancement of images, special effects and filters, layer blending, selection routines and more. PixTwix can read and write many popular image formats.
7) GrFinger FREE 4.1
GrFinger is a powerful fingerprint scanning/matching library in DLL/ActiveX format. Sample source is provided in many languages. Many fingerprint readers are supported. Two end-user applications comes in the package. Free for non-commercial use.
8) SWF Scout 2.33.4
Flash movie (SWF) creation programming library with SWF reading and SWF templates support. Can be used in Visual Basic, VB.NET, Visual C#, ASP and ASP.NET. Can use FLV, SWF, EMF, JPG, BMP, PNG, TIFF, GIF as input, can export EXE and SCR files
9) mCore .NET SMS Library (PRO) 1.0
mCore .NET SMS Library - PRO is a powerful and easy to use Class Library, written in 100% managed code, for 2-Way SMS, WAP Push, vCard/vCalendar. It can be used with any ETSI 07.05 compliant GSM modem or phone handset connected to the PC serial port.
10) EasySec Firewall SDK 1.10b
EasySec Firewall SDK is a professional software kit for developing network firewall, sniffer or analyzer applications for Microsoft Windows.
New Software Development / Components & Libraries programs
1) z/Scope SDK 6.2.0.128
z/Scope SDK is an easy-to-use library that allows you to integrate and take advantage of z/Scope Terminal Emulator with your corporate application under ME/NT/2K/XP/VISTA.
2) Virto SharePoint Workflow Activities Kit 3.0.0
No-code set of SharePoint 140+ activities for creating custom Workflow using SharePoint Workflow Designer. Virto Workflow Kit includes extended activities for sending e-mails and SMS as well as messaging to Twitter, Jabber and Gtalk.
3) Licensing .Net Pro 6.0.0.0
100% .NET solution for licensing controls and applications written with any language designed for the .NET Framework (C#, VB.NET). Strong license file and unlock key encryption. Flexible license file content. Create encrypted code and data.
4) UseOffice .Net 3.0.12
UseOffice .Net is a robust component for converting between DOC, DOCX, HTML, RTF, XLS, XLSX PPT, PPTX CSV to PDF documents. The component is created in C# and can be used in .Net 1.1 or higher. The UseOffice .Net requires MS Office installed.

5) Silverlight Viewer for Reporting Services 2008 2.6.0.0
Silverlight Viewer for Reporting Services: the first product intended for displaying Reporting Services 2008 reports directly in Silverlight applications. SV is a native Silverlight control which is easily integrated into any Silverlight application.
6) Graphics4VO 5.18
Graphics4VO is the graphics interface for the programming language CA Visual Objects with classes, methods and functions for the integration of graphics, images, charts and presentation for the display, printer, plotter, file and memory.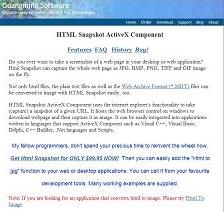 7) Html2image Linux 2.0.2010.1211
Convert html to bmp, png, jpg and jpeg on Linux Support command line parameters Support jpeg compression quality control Support saving the whole html page to image without scrollbars. Support batch convert a lot of url to images
8) WinI2C-DDC Lite 3.73
WinI2C/DDC is a powerful solution that allows you to control display devices in Windows environment via DDC/CI protocol.
9) HS COM 1.0
HS COM is a serial communication library implemented in C language. HS COM runs on Windows and interfaces to Win32 serial communication API
10) BrowserObject PHP Premium Edition December.2010
BrowserObject PHP module is best for developers who need to detect client's browser capabilities and settings. Unlike other detection technologies, BrowserObject PHP is using server side detection to detect client's browser information.