Covert Surveillance - Security & Privacy Programs from 1 to 50 listed after downloads number Hidden Key Logger Utility, MSN Chat Monitor, SniperSpy, The Shield Pro AntiVirus & Firewall, AGLAYA Call Magic, 123 KeyLogger
Order programs after
downloads
or
name
or
date
(currently are listed after popularity)

1)
Hidden Key Logger Utility 2.0.1.5
Keylogger utility run in invisible mode, capture all typed keyboard character of any application, record all keystroke, user activity and save in hidden log file. Software tracks each key press, data, login, passwords and monitor secret information.
---
2)
MSN Chat Monitor 1.21
MSN sniffer is a handy network control utility to capture and observe MSN chat conversations on network. It records MSN conversations automatically, and all intercepted messages can be saved as HTML files for later processing and analyzing.
---
3)
SniperSpy 4.0
Do you suspect your child, employee or anyone else is using your remote computer inappropriately? No physical access to the remote PC is needed to install this invisible spy software. Once installed you can watch the screen and view all activities.
---
4)
The Shield Pro AntiVirus & Firewall 2007.820
The Shield PRO 2007 AntiVirus and Personal Firewall provides essential protection from viruses, hackers, data thieves and privacy threats. Protect yourself, your family, and your PC online with The Shield Pro 2007. Free Updates and Techical Support!
---
5)
AGLAYA Call Magic 2.0
Call Magic: Answer incoming calls to your phone automatically and/or listen to what is happening around your phone.
---
6)
123 KeyLogger 1.0.24
Track activities from all computer users: data typed, sites visited, applications launched etc. With this easy-to-use spy software you will learn more about your spouse, kids, colleagues, and employees activity.
---
7)
SpyBuddy 3.7
SpyBuddy is a powerful monitoring and surveillance suite for PC's. SpyBuddy will record all PC and Internet browsing habits for you to review at a later date and time. Perfect for monitoring spouses and children!
---
8)
Cell Phone Spy 1.7.4
Cell Phone Spy is an undetectable monitoring software which allows you to secretly record all activities of your smart phone, including GPS positions. Cell Phone Spy records every SMS and logs every call including phone numbers with durations.
---
9)
Mini Key Log 3.0
Mini Key Log makes it possible for you to record user activities unnoticed. The monitoring is completely invisible and easy to use.
---
10)
Eye of Horus 1.0 w/ JRE
Webcam surveillance software featuring a highly configurable motion detection mechanism.
---
11)
PC Activity Monitor Lite 7.7
PC Activity Monitor Lite (PC Acme Lite) is an ultimate invisible and undetectable easy-to-use monitoring and surveillance tool for personal PCs. It is professional software that captures all users activity on the PC.
---
12)
Pandora PC Detective Web Spy 2009.147
Record all secret passwords and take snapshots of the websites visited, emails sent and received, Instant Messages sent and received, Chat room conversions and other computer and Internet activity that is done on your PC. Easy, VCR-like playback.
---
13)
Free Key Logger 1.6.14
Free Key Logger records everything that has been typed on a computer's keyboard. It works in two modes: normal and stealth. In stealth mode it is virtually undetectable!
---
14)
Employee Inspector 1.6
Employee Inspector is a powerful employee monitoring solution, which allows you to watch employee screen at anytime, inspect which web sites they visit, analyze how much time they spend for their personal activity at work.
---
15)
Solid Key Logger 2.0.02
Solid Key Logger records everything that has been typed on a computer's keyboard. It works in two modes: normal and stealth. In stealth mode it is virtually undetectable!
---
16)
Active Key Logger 4.2.2.3112
See what happens on your PC when you're away. Protect your kids or catch cheating spouses by logging chats and instant messenger conversations. Email or FTP the results automatically to anywhere in the world with Active Key Logger.
---
17)
PC Tattletale
PC Tattletale parental control software allows monitoring and recording all actions that are performed with a computer.
---
18)
Omniquad Instant Remote Control 2.2.7
Instant Remote Control - allows you to gain full control of a remote machine in your workgroup-domain. At the remote end, there is no warning that the PC is being observed or controlled. Full Screen, FTP transfer, Remote Lock with total control.
---
19)
e-Surveiller spy software 1.6.4
Monitor the activities of local and remote computer users. e-Surveiller allows you to view the screens of monitored users on a LAN or across the Internet LIVE! Also records keystrokes, web sites visited, chat conversations, etc. + MORE!
---
20)
BlazingTools Perfect Keylogger 1.68
Perfect Keylogger helps you to find out what they are doing on their PC. With this key logger you will receive their keytrokes, chats, websites, screenshots and passwords by email or FTP. Covert surveillance - as easy as never before!
---
21)
Actual Keylogger 2.3
Actual Keylogger is a free key logger that records every keystroke to an encrypted log file. You can view the reports as HTML or plain text. Actual Keylogger cannot be seen in the task manager, programs files menu, system tray or uninstall list.
---
22)
Win Spy Software Pro 9.5
Win Spy Software Pro is a Complete Stealth Monitoring Software that can both monitor your Local PC and Remote PC. Win Spy Software also includes Remote Install. Win Spy Software will capture anything the user sees or types on the keyboard.
---
23)
Invisible Keylogger 5.1.4.1
Invisible keylogger software records every keystroke including typed emails, passwords, online chat conversations, typed documents, capture Windows running applications, visited URLs and other keyboard activities and send it to your specified email.
---
24)
SpyMyPC PRO 5.5.92
This keylogger logs all keystrokes, applications and Websites visited on a computer. You can receive reports via e-mail. An easy and cost-effective way to monitor your kid's or employee activities.
---

25)
SpyPal Yahoo! Messenger Spy 2008 9.1
SpyPal Yahoo! Messenger Spy software can secretly Secretly record all Yahoo! Messenger's incoming and outgoing chat text messages. You can check all recorded messages by simply receiving emails or opening a web page.
---
26)
Mobile Spy 2.0
Mobile Spy allows you to monitor your smartphone in real time. This stealth software records all SMS, call and web activities. Silently uploads the logs to your private online spy account. You can view the results from any computer's web browser.
---
27)
Spytector 1.3.7.6
Spytector is the ultimate invisible keylogger (spy tool) used to track all PC activities. Features include keylogger filter, advanced firewall bypass techniques, email log delivery, clipboard monitoring, extremely configurable server etc.
---

28)
Keylogger Spy Monitor 2007 9.2
Keylogger Spy Monitor spy software can secretly record all keystrokes typed on your PC. It runs invisibly. You can check logging reports by simply receiving emails or opening a web page. Set hotkey and protect it by password.
---
29)
Handy Keylogger 3.25
Handy Keylogger - superior stealth keyboard monitor for family and business use! With Handy Keylogger you can: record key strokes, capture desktop activity, monitor internet usage, log chats and emails, monitoring applications and active windows!
---
30)
Motion Detector / Video Surveillance 2.0.6.0 T.S.E.
WebCam - Motion Detector / Video Surveillance Software Turn your PC into a powerful hidden security / video surveillance system! Guardian Is The Ultimate Hidden Security / Surveillance System! FREE FULL VERSION UPGRADE! Motion Detector, Email...
---
31)
Firewall Gold 2009.147
Firewall Gold - Stop Hackers and Viruses and Protect Your PC! Firewall Gold provides total protection from online threats. It's never been so easy to secure your computer. Try Firewall Gold today and keep your PC safe!
---
32)
Quick Keylogger 2.1
Quick Keylogger - Perfect Invisible Family Keystroke Logger for PC surveillance! Quick Keylogger is extremely compact, easy-to-use, very simple and small still being award-winning tool. It works in the absolutely stealth mode, completely undetectable
---
33)
Ventis BackupSuite 2008 8.4
Ventis BackupSuite 2008 is the current top market backup software. A state of the art user interface streamlines the backup handling process. Files can be archived in Zip files to save space, also when backing up to Ftp server. Scheduler is included.
---
34)
Virtual Screen Spy 1.2
Virtual Screen Spy is a Screen Capture Software. Similar to a surveillance camera, Virtual Screen Spy will captures images, only these Screenshots will be of your screen. Virtual Screen Spy takes a Screen Capture Periodically.
---
35)
TypeTeller 2006 1.46
TypeTeller 2006 is a free keyboard logger for Windows. It allows you to keep a chronological record of everything that is typed on the keyboard, including chat, email and passwords.
---
36)
WideStep Elite Keylogger 2.6
KEYLOGGERS GO ELITE with WideStep - the Leading Keylogger's Provider on the net! Elite Keylogger works in low-kernel mode as a driver-based monitoring software recording every detail of PC and Internet activity.
---
37)
Network Monitor Pro (PCPrtScr) version 2.0.2.1
Network Monitor Pro© (PCPrtScr) enables you to monitor and view the desktops of up to 64 computers on the network, simultaneously from one console.
---
38)
Spectre Spectre 1.3
Track your children with covert surveilance taking snap shots of the desktop, up to one per second. Spectre runs as a service in the background snap shoting the desktop image of the logged on user. and stores the images in a database for review.
---

39)
Yahoo! Messenger Spy Monitor 2007 9.2
Invisible messenger spy software that records all Yahoo! Messenger incoming and outgoing chat text. Send reports to your custom email or ftp. Use hotkey to activate it from complete stealth mode and protect program by password.
---
40)
Webcam Zone Trigger 2.370
Traditional software simply alerts you when motion is detected within the camera`s view. Zone Trigger lets you decide what will happen when motion is detected in an unlimited number of "Hot Spots" located anywhere within the camera's range.
---
41)
PC Activity Monitor Standard 7.7
PC Activity Monitor Standard (PC Acme Standard) is an ultimate invisible and undetectable easy-to-use monitoring and surveillance tool for personal PCs. It is professional software that captures all users activity on the PC.
---
42)
Macro AntiVirus 2009.147
Macro AntiVirus not only Detects and Removes Viruses, but also Spyware, Adware, Trojans, Dialers, Worms and a host of other dangerous parasites that detererate computer performance and invade your privacy. Try Macro AntiVirus Free!
---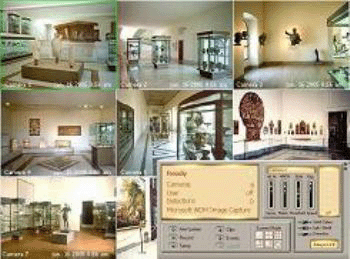 43)
EasyCCTV 2.1
EasyCCTV captures images up to 30 frames per second from any USB video device. The program performs simultaneous recording. Your camera(s) can be used as part of a complete surveillance system.
---
44)
Keylogger Pro 4.6
Keylogger Pro is a brilliant new keystroke recorder from Family Software Solutions. KP is 100% safe and easy to use. Monitor children, Catch a cheating spouse.
---
45)
Stealth WebSite Logger 2.1
Stealth Website Logger is an invisible, easy to use surveillance application that monitors and records all websites visited by a user or computer.
---
46)
Mom Knows Best 2.5
Mom Knows Best is an easy way to restrict and monitor usage of your computer. Our logging features, keyword triggers and our manual white/black lists make Mom Knows Best a great solution for home or small business use.
---
47)
PC Sentinel's Red-Handed: Record Instant Messages! 2.5.5
Now with FREE WEB ACCESS to all log files! Internet monitoring & parental control software records and monitors all AOL, Yahoo and MSN Instant Messages.
---
48)
Advanced Invisible Keylogger 2.3.2.3112
Advanced Invisible Keylogger: the most powerful stealth spy software offered by ToolAnywhere! Advanced Invisible Keylogger runs silently at the lowest level of Windows capturing every keystroke typed including usernames and Windows log-on passwords.
---
49)
Free Keystroke Recorder 5.0.1.5
Keylogger PC activity surveillance tool records already entered passwords and prevents accidental damaged data in an easy and secured way. Keyboard activity tracking application monitors multiple user account activity simultaneously in few seconds.
---
50)
MAS 5.3
3ami MAS is for business, corporate and government users who need a simple and effective tool for monitoring employee productivity and activity for compliance with legal requirements.
---
Browse Pages:
|<
1
[2]
[3]
[4]
[5]
>>
>|